Jurnal Pendidikan PKn
Scientific Journal of the Pancasila & Citizenship Education Study Program, Tanjungpura University
The Study Jurnal Pendidikan PKn (JPPKn) aims to disseminate conceptual thoughts or ideas, reviews, and research findings/results in the study of Pancasila and Civics.
The focus of the Jurnal Pendidikan Pancasila & Kewarganegaraan (JPPKn) is:
1. Education and Learning
2. Citizenship studies
3. Learning Civics Problems
4. Character Education
5. Social Politics and Social Sciences
6. Legal and Citizenship Education.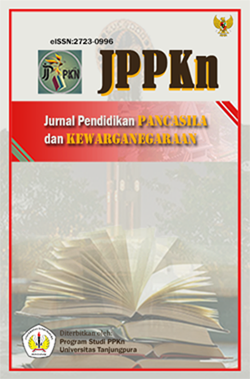 Announcements
Call for Paper Issues Civic Education dan Citizenship Studies In culture, identity, and art: Vol. 4 No 1 2023

JPPKn, Jurnal Pendidikan PKn Vol. 4 No 1 & 2 (Juni & November 2023): "Civic Education dan Citizenship Studies In culture, identity, and art." Deadline for submission: 31 March 2023.

Please send abstracts by Email: [email protected] or [email protected]  

The preparation of publications for each article received is the joint responsibility of the Editorial Team Jurnal Pendidikan PKn collaborating with Dr. Muhammad Mona Adha (Pendidikan Pancasila dan Kewarganegaraan - Universitas Lampung) as guest editor.

Over the past few years, culture has played an essential role in shaping civic culture in multicultural countries that adhere to the nation-state system, such as Indonesia. Culture makes an excellent contribution to support the nation's noble values, traditions, and norms that inspire forms of citizenship in civic culture. We need to think about civic education and the study of citizenship in the scope of culture, identity, and the arts. However, strangely, there has been no effort made by academic actors to study culture, identity, and art in certain areas in the aspect of forming civic culture. Culture, identity, and art are the primary sources of inspiration for a country that adheres to a multicultural system and a nation-state to create social norms for its citizens. The issue is expected to cover as many aspects of customary law, culture, art, and nature as possible and be reported as scientific findings. Authors and scholars from all relevant disciplines are invited to contribute, and we are interested in your research contribution to pertinent illustrations of the fields of civic education and civic studies. The editorial team reviews the specific and cultural roles, identities, and traditional arts as described in the forms of customary law and norms in multicultural societies, performing arts where local culture and identity play an essential role, literature, and folklore in society and history engraved on reliefs. Reliefs such as temples in Yogyakarta, books such as Sutasoma, and the like. We want researchers to write about how culture, identity, and art have played a role in the essential parts of citizenship from the past to the present.

In essence, this Special Editorial accommodates writers and academics to conceptualize the role, philosophy, customary law, tradition, norms, and artistic aesthetics as forming civic culture in a country that adheres to the nation's system so that it becomes a new form of knowledge that can be taken for civic education and studies, citizenship itself.

Note: 

In 2023, manuscripts sent in the JPPKn (Jurnal Pendidikan PKn) journal must be in English.

Posted: 2022-03-14
More...
Vol 4, No 2 (2023): Vol 4, Issue 2 (October) 2023
Table of Contents
Articles
| | | |
| --- | --- | --- |
| | Aulia Riski, Rino Rino, Diding Nurdin, Nani Hartini | 104 – 126 |
| | | |
| --- | --- | --- |
| | Yuniar Mujiwati, Ayu Maya Damayanti, Khamdan Safiudin | 127 – 140 |
| | | |
| --- | --- | --- |
| | Alda Dea Franciska, Sutrisno Sutrisno, Hadi Cahyono | 141 – 154 |
| | | |
| --- | --- | --- |
| | Halida Halida, Syawaluddin Syawaluddin, Yogi Damai Syaputra, Zaky Ibrahim Zayn Borneo | 155 – 174 |
| | | |
| --- | --- | --- |
| | Christanto Syam, Yudhistira Oscar Olendo, Zakarias Aria Widyatama Putra | 175– 188 |
| | | |
| --- | --- | --- |
| | Noviyandika Nurul Saputri, Wibowo Heru Prasetiyo, Sri Gunarsi | 189 – 202 |
| | | |
| --- | --- | --- |
| | Aryanti Dwi Untari, Lina Marlina | 203 – 223 |