All published published by JPMIPA have unique DOI number
Since Volume 9, all papers in this journal have been screened using "iThenticate" in order to avoid plagiarism.
JPMIPA is a journal publishing the mathematic, biology, chemistry, and physic also natural science mathematic eduacation, biology education, physic education,  chemistry education, natural science education.
JPMIPA located in Faculty Teacher Training and Education collaborated with PPII (Perhimpunan Pendidik IPA Indonesia).
This journal is published semesterly (January, July).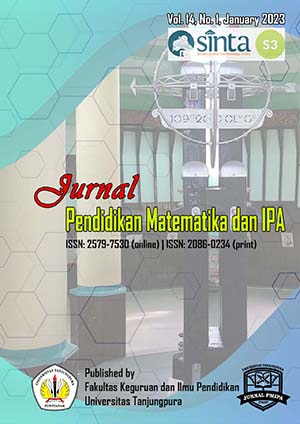 Announcements
PENERIMAAN ARTIKEL

Pengiriman artikel dalam bentuk softcopy melalui email jpmipa.fkip@untan.ac.id
Posted: 2018-01-29